About
Groupexhibition SEX AND DESIGN in Mailand:
05.Dezember 2012 - 10. March 2013 Triennale Design Museum
Exhibition BONER OF A LONELY HEART at Staatsgalerie Delirien, Cologne (01.12 - 31.12.2012):
Atelier Staatsgalerie Delirien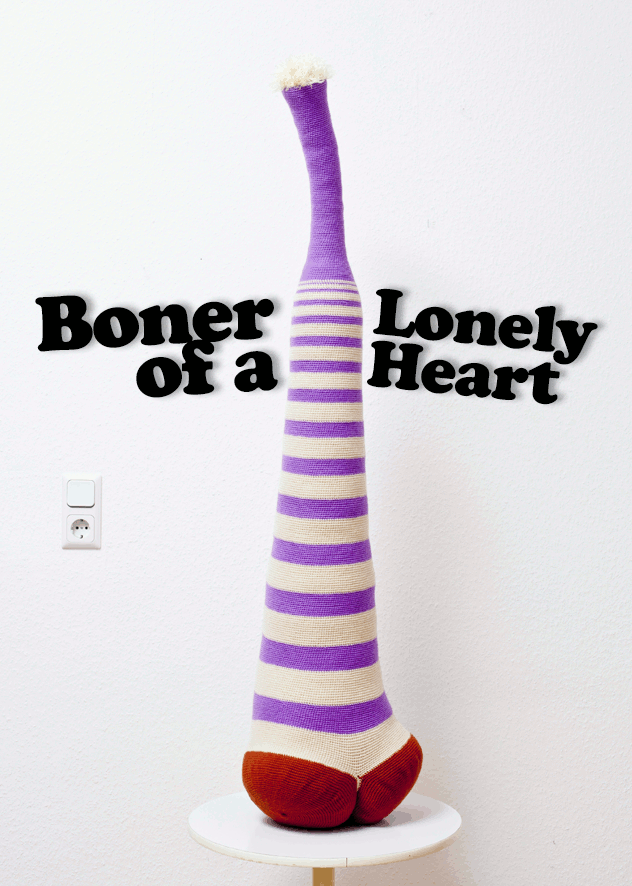 BONER OF A LONELY HEART
Erotische Darstellungen in der Kunst bestehen leider immer noch zum Großteil aus weiblichen Akten und die wenigen männlichen Bildnisse entstehen nur höchst selten durch Frauenhand. Nicht so bei der Ausstellung Boner Of A Lonely Heart, die einen rein weiblichen Blick präsentiert und gehäkelte Penisse in allen Formen und Farben zeigt.
Auf der beharrlichen Suche nach der Bestätigung einer Unschuldsvermutung wird versucht das Schöne in Bereichen zu finden, deren Abbildung in ihrer interessantesten Form profan als Pornografie verunglimpft wird. Entsexualisierung, Humor und Abstraktion dienen dabei der Aneignung durch Umdeutung der domestizierten Männlichkeit.
Nach "My Hard Will Go On", "About A Boy", "A Lover You Don't Have To Love " und Toys Don't Cry nun also Teil fünf der Geschlecht-Erforschung: "Boner Of A Lonely Heart"
Vernissage 01.12. ab 15:00 Uhr
Ausstellung 01.12. bis 31.12.
Exhibition (with Denise Collignon) at Kunstverein Leverkusen (15.06. - 15.07.2012):
Group Exhibition - KUNSTGRUPPE "Full House" Cologne (16.04. - 16.06.2012):
Art Magazin (Review)
gib_mir_fuenf_ausstellungstipps
Group Exhibition im Museum für Gestaltung in Zurich (29.04. - 24.07.2011):
Public affairs 1992-1996 During the studies participance in several groupexhibitions (In the middle of the nineties music is taking over. In terms of making, playing, working with and writing about music.) 2007 First publications of the crochet penis objects and a very positive reception on myspace. At first Myspace is just censoring a few pictures and afterwards the whole page without any statement. (Between April 07 and March 08 this procedure happens six times.) First public exhibition of the crochet penises in October 2007 (Berlin, Festsaal Kreuzberg) Photo series in Jungsheft (www.jungsheft.de) Solo Exhibition in November (Augsburg, Der Pavian) Article (The Super Super, UK) Exhibition (permanent) (Berlin, Kaufhaus der Berliner) Article (http://gatocontraaparede.blogspot.com, Brazil) Review (Ecrans, FR) Review (Groove, GER) April 2008 Solo Exhibition (Essen) tip (ART) Preview (Port 01) Preview (Update) Preview (Gay Party Guide) part of the Artlout collection (Artlout Contemporary Art Magazine) Article (Amelias Magazine Blog)
04. september - 10. october exhibition "about a boy" at the Schauraum in Vienna
Video zur Installation \"About A Boy\"
review (vice austria)
feature (moloko plus magazine, russia)
01.11. - 03.01. Exhibition "A Lover You Don't Have To Love" at Tsunami Cologne
feature (Lftfield, NL)
exhibition in montréal at ATELIER PUNKT
Groupexhibition in Paris:
Du 1er septembre au 4 octobre 2009 Vernissage le 3 septembre 2009 à partir de 18h
Il y a trois ans, l'une des premières exposition de la galerie s'intitulait DOLL'S ART et nous vous invitions à venir découvrir les œuvres, les doll's d'une trentaine d'artiste. Depuis la poupée a accompagné l'histoire de l'Art de Rien, mignonne ou carrément effrayante, elle a été de presque toutes les expositions, fil conducteur, symbole de rêves comme de cauchemars.
Trois après nous remettons la poupée à l'honneur avec les poupées, les doudous, les monstres, les barbies, les vaudoos, les baigneurs de : [Grrr] Klub, Andrea Pritschow, Annette Padilla, Avril, Axelle Delafolie, Barbara d'Antuono, Baleine, Benjamine Guilbaud, Caroline Sury, Claris Garnier, Corine Perier, Craoman, Cugnetto Maledetto, Dav Guedin, Dora Protoulis, Fabesko, Fabien Belly, Fabrice Delaunay, Fanny Cheval, Fedulab, FluffyJack Dolls, Geraldine Boneton, Golem, Grapheart, Gretagallery, Gus Fink, Gwen Leven, Hélène Manche, hRLck, hybridsab.com, Ikabov, Izabella Melanie Csanadi, Jace, Je suis tombé dedans, Joël Laurent, Jorge Perez Ruibal, Julie l'a fait, Jurgen, Ketty Sean, La boite à Monstres, La Lantez, Laura Gourmel, Laure Boer, Le Petit Monde D'A, Le Petit Véhicule, Luluberlu, Maga Acevedo, Malak, Marc Lafont, Marie Noel Doby, Martine Birobent, Mary Downe, Même Pas Vrai, Miette, Mili Boom, Mimi Traillette, Romolo, Rocky, Pulcomayo, Pu_Pazzi, Peggy V, Paul Toupet, Naureg, Nagua, Monsieur Terez, Monsieur Carton, Misstiff, Miss Plush Plush, Miss agonie, Miss Scares, Sara Comelli, Sardine animal, Sasu, Shespankh, Sisca Locca,Soazig, Spok Spok, Stephane Blanquet, Stéphane Roy, Stoul, Tandoori, Tatayette,Tyson Bodnarchuk, Valentine Dolly, Yagdom, Zabratta Studio, Zette. O Fray…
Galerie l'Art de Rien
Soloexhibition Basementizid Heilbronn:
mai2010-andrea-prtischow-toys-don´t-cry
Biography Andrea Pritschow Born 1971 Uelzen 1992-1996 University of Lüneburg (Musicology and Science of art) 1996-2001 University of Cologne (Philosophy and Sociology) 1997-2007 Ten years of writing about music and (a little) art ( jetzt Magazin, Tussi Deluxe and Spex amongst others) 2002-2007 Spex